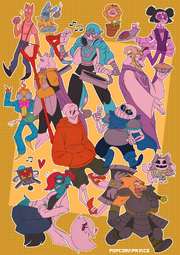 Underswap is an created by popcornpr1nce. The AU "swaps" related characters with each other (for example, Papyrus is swapped with Sans).
Underswap used to be posted on popcornpr1nce's personal blog, before popcornpr1nce and created a blog for Underswap at the address "underswapped.tumblr.com"[1][2] (not underswap.tumblr.com, since that address was already taken[3]) along with his friend @coastrobbo (referred to as "Robbo" on the blog).
Full list of swaps:
Scrapped swaps:
Jerry isn't swapped with anyone. He gets ignored.[12]
References
Edit
Community content is available under
CC-BY-SA
unless otherwise noted.